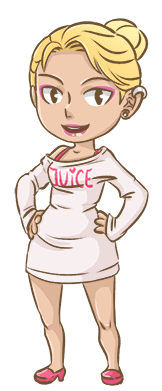 Extras
&

Early Development
When I told my friends I was thinking of doing a mini comic about a 19 year old girl being cock-blocked by a unicorn because they lost its horn and has vowed to cock-block her until she does, they looked at me with a "what…?" look on their faces.
Granted, I get that look a lot. But it was also a "I want to know more" look, which prompted me to go for it.
The idea originally started because I like  to read stories about women who own their sexuality. I like women who are annoyed and annoying, who are selfish and fun, and just human. So I though of Rachel- or she came to me (that's what she would say). I think of her as someone who hasn't been really in love but enjoys having regular sex- which is why "The Horse" (who's name is actually Dough) is so irritating to her. A symbol of virginity nagging her about love? Please. But then, what if Dough was actually kind of naughty? Like, throw away all your savings for the thrill of gambling, naughty.
So yeah, they're not perfect, but I love them, and I hope anyone who reads these pages can at least get a kick out of them.